Wood Dollies
Manufacturer: Wesco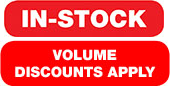 FOB: East Coast Warehouse
Normally ships within 1-5 days
Ships Knocked Down and Boxed via UPS

Features:
4 swivel casters: 3" hard rubber or 4" hard plastic.
Seasoned hardwood with flush top bolted construction.
Optional tow handle and eye hook.
If you need a large quantity of this product, call us at 1-800-338-1382 for additional bulk discounts!