Wesco Steel Vending Truck
Manufacturer: Wesco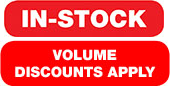 FOB: East Coast Warehouse

Normally ships within 5-7 days
Steel Frame Construction
Made In The USA

Features:
Made in U.S.A.
Dual handle control.
Large pneumatic wheels for rough terrain.
Welded steel frame.
One piece belt.
47" from noseplate to center of belt.
Nose plate 25" W x 5.187" D
Overall Dimensions: 28.5"W x 20"D x 55"H
If you need a large quantity of this product, call us at 1-800-338-1382 for additional bulk discounts!