Universal Drum Lifter
Manufacturer: Wesco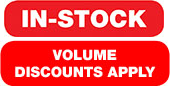 FOB: East Coast Warehouse
Standard Color: Orange

Made In The USA

Design allows for the loading of drums into overpacks.
Works on open and closed head drums.
For use with standard steel or poly drums with at least a 3/16" chime.
Lifting arms are adjustable to work with most 55 and 30 gallon drums.
Three point contact of the lifting arms prevents or minimizes deformation of the drum and provides more secure lifting.
Overall Dimensions: 29.5"W x 29.5"D x 5.5"H
If you need a large quantity of this product, call us at 1-800-338-1382 for additional bulk discounts!