Series 470 Cobra-Lite Aluminum Hand Trucks
Manufacturer: Wesco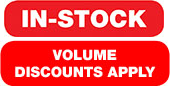 FOB: East Coast Warehouse
Normally ships within 5-7 days
Aluminum Construction
Ships Knocked Down and boxed
Features:
High back loop handle.
52" overall height.
Overall Dimensions: 18"W x 20"D x 52"H
All aluminum construction.
Heavy duty cast 7.5" by 14" or 18" wide nose plate options.
Quality light weight truck at an economical price.
All 2" wide cross braces for additional strength. Great for advertising label.
Capacity: 560 to 600-lbs.
Assembly options available.
If you need a large quantity of this product, call us at 1-800-338-1382 for additional bulk discounts!